During the annual press briefing went King Willem-Alexander and Queen Máxima on their experiences during the corona crisis.
"People are herd animals," says King Willem-Alexander. "We are happy together. But it is important that we continue to adhere to the half meter line. "
That also applies during the traditional photo session with the royal family before the summer holidays, Friday in the garden of Huis ten Bosch, and the subsequent press interview. There are fewer photographers and cameras, and one has to draw in subjects that are assigned to them by lot.
Reporters are to maintain mutual distance. Questions (one per medium) are this time a day earlier submitted in writing, instead of an hour in advance verbally transferred to employees of the Government Information site.
Corona
The first quarter is shooting freedom for photographers, five blue and white-clad family members to pose in all possible compositions. "What do you still see?" Jokes Princess Amalia halfway.
Then the reporters turn. Corona is the dominant theme. Willem-Alexander tells how after the state visit to Indonesia, in early March, went to the royal agenda upside down. Once it was, began a series of different visits.
"Our first question was always: arrange it when we come? Because we did not want to walk the road "The King shares another consideration '. We did not create crowded places, which soon became the case when we go visit somewhere other hand". The power of the monarchy is also touchability. It could not, but I think we in the media were still very visible. "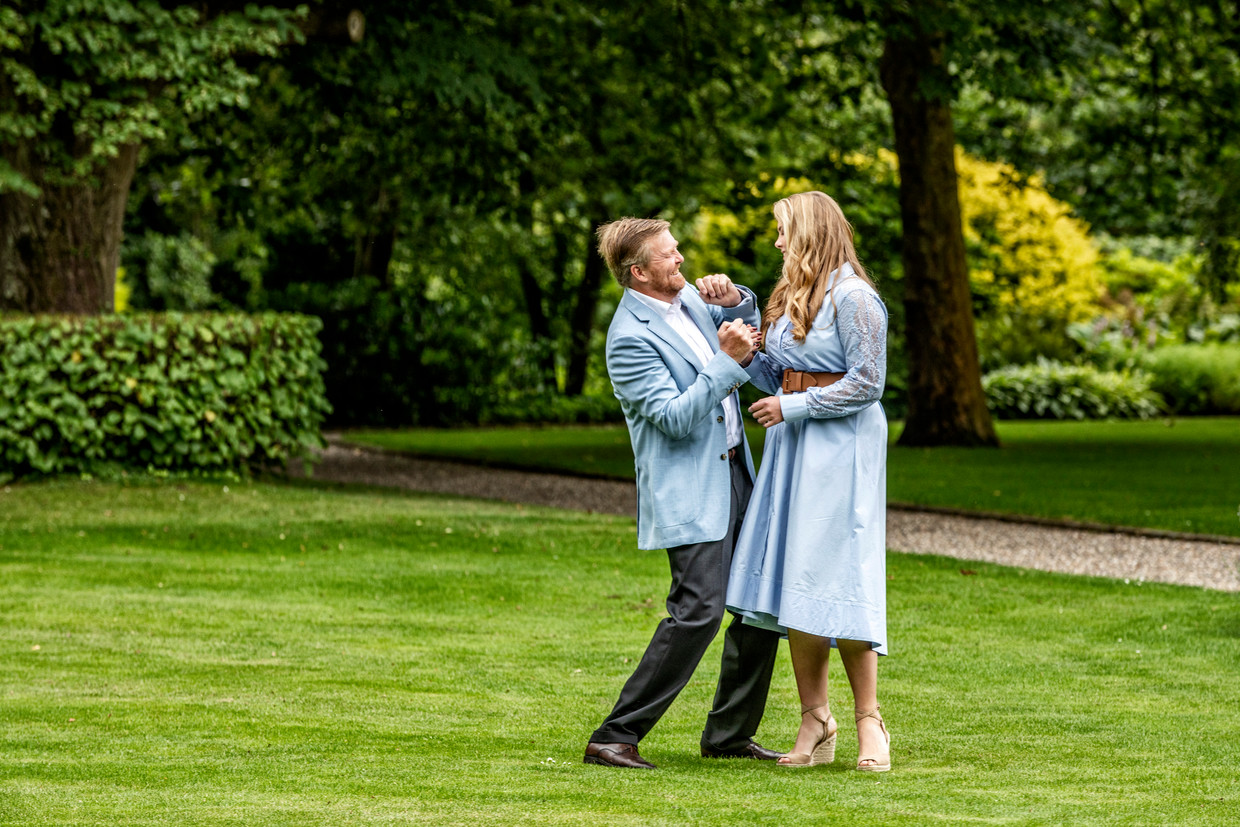 Work and home
The family was at home a lot. Willem-Alexander: "The children had never thought they were going to miss school!" When there were frictions – and 'three teenagers is not always easy, "says Queen Máxima -" was fortunately time with a conversation to help the world. "She thinks that" a different relationship between work and home to one of the keepers after this crisis. "
The couple says huge empathize with those who have become unemployed. "Hopefully we can mobilize people," says Máxima. "But a musician in construction is not obvious."
One of the most special moments in lockdown the Remembrance Day was an empty dam, where Willem-Alexander gave a much-discussed speech. "I had to stand in big shoes," said the king. "Including General Van Uhm had in the years before commanding voice. I found that I could not keep personal story, without thereby involving my own family. "
By visits to Jerusalem and Auschwitz in January, and the memory of an earlier interview with Holocaust survivor Jules Schelvis, Willem-Alexander knew the slight attention to the persecution of Jews during the war speeches of King Wilhelmina is still "a sore point. "I do not judge, I have found it. History is not black and white. "