The pandemic has a positive effect on sales of the Accell Group, known Batavus and Sparta.
Prof cyclists experience a difficult year, but otherwise everyone seems to cycle accurate. This is true at least for Europeans, noting bicycle manufacturer Accell Group from Heerenveen, known for brands such as Batavus, Raleigh, Sparta and Babboe-trikes. "The pandemic has boosted the interest of consumers and governments for cycling in Europe," said CEO Ton Anbeek.
The coronavirus is crowded buses less popular. Rather than without face mask with your head in the wind. The bike feels like the healthy alternative, Anbeek said at the presentation of the interim results. He expected to have a long lasting positive impact on the business of Accell. That all went well with the sustainability trend and the rise of the electric bicycle.
Expressed in figures: revenues amounted Accell the past six months, 677 million. That is an increase of 4 percent. The bottom line was a little over 29 million euros, slightly less than last year. Electric bicycles were the main focus. Traditional cycling yet again fell further back: to 14 percent of sales. Parts account for a quarter of sales.
Accell course was also hit by the corona measures in Europe, the main market for the company. Sales fell in as many bike shops in April and May had closed. Not knowing how long it would take that situation, Accell customers decided to give big discounts, which yields expressed by bicycle. In the Benelux stores remained open, but it was lower shop visit.
But then May and June: this month provided a strong final sprint. In June, sales were even 53 percent higher than June last year. Germany was restoring some against.
Now the shops are open, are distortions of international production at highest risk for Accell. The bike parts must arrive on time at the assembly plants, where the bikes are put together. The corona distribution in Asia and the obstacles to European borders disrupted that process. The immediate problems are over, but a local outbreak corona production can just shut down again. It is all as one component is unavailable wrong.
Accell has 3,400 employees in eighteen countries and offers its products in more than eighty countries. Last year Accell sold 943,000 bicycles and sales totaled 1.1 billion euros. A bicycle can be an expensive purchase. But Accell notes not mean people their money now rather leave them on the bench, because of the economic crisis.
Global demand for bicycles is so great that the bicycle industry has waiting. In France doubled sales in May and June compared to last year, reported news agency AFP this week for example. International retail Decathlon says five times as many bikes ordered in China. In the US in May 80 percent more bikes sold than last May.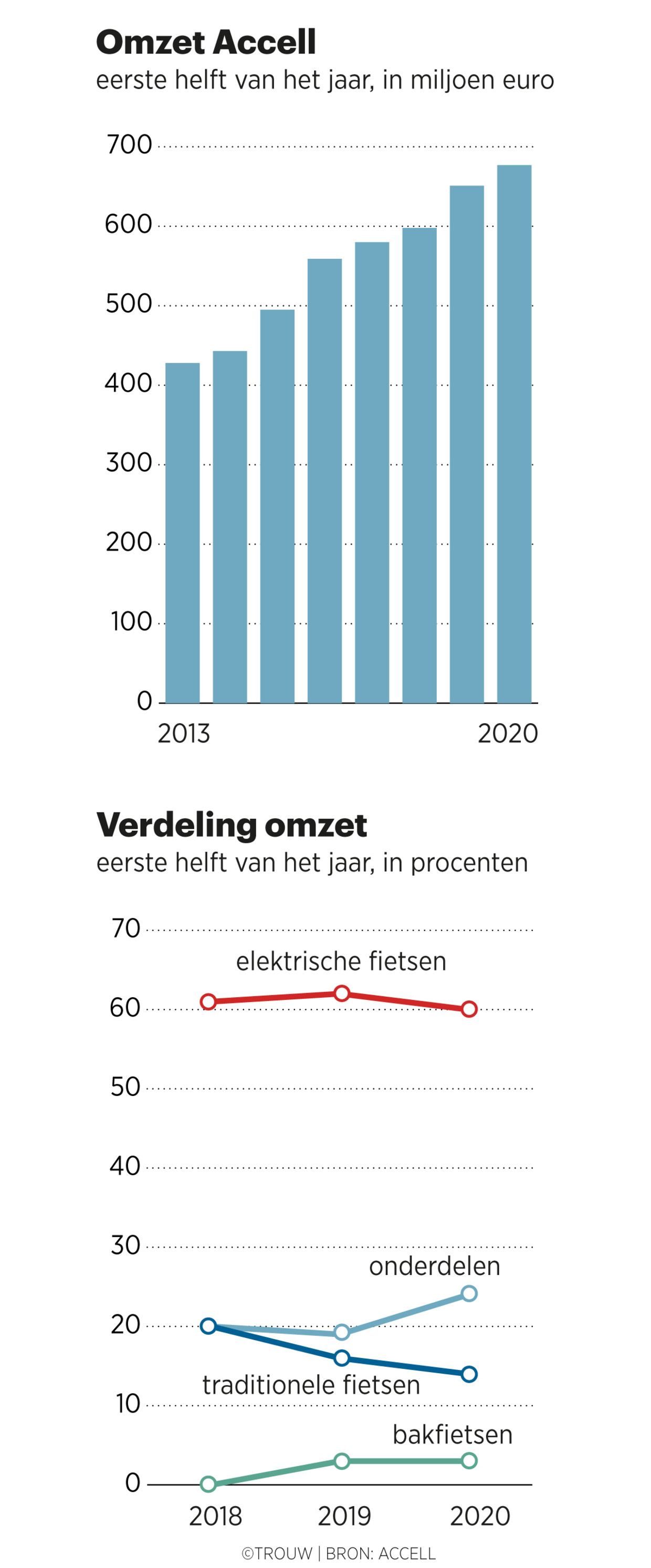 Google Maps also shows the growing enthusiasm for cycling. Since February, the number of requested routes has risen to a record high. Furthermore, it was never much wanted Google to cobblers – doubling. All those bike tires should finally be stuck again.